Tourist tax:
The tourist tax is a compulsory local tax, the amount of which is determined by the municipality. The amount depends on a number of factors, such as the number of tenants and the classification of a property. For a number of properties, the tourist tax is paid upon arrival (this is specified on your rental agreement) and for the majority of the properties, Q Home will collect the tourist tax during your booking process and pay it to the relevant municipality where the property is located.
Why do I have to pay tourist tax?
Tourist tax is a fairly standard tax for tourist stays in many European countries. This is determined by the French municipality where your holiday home is located.
What is the amount of the tourist tax?
All tourists over the age of 18 who stay in a holiday home / hotel / bed & breakfast must pay tourist tax
What is the amount of the tourist tax?
The tourist tax is determined by the relevant municipality where the house is located and calculated on the basis of the number of adult persons staying in the house.
In addition, most municipalities use a classification per home that can still influence the amount and an additional tax is levied by the department. The average amount of this tourist tax is between €3.30 and €6.25 per person per day. The rental agreement that we draw up for you will contain an exact calculation of the amount for your selected holiday home.
Quality of the holiday homes:
Because Q Home operates locally, we know all homes personally. This gives us a lot of control and certainty about the quality of the homes we have on offer. We always have a Q Home contact person on site who you can consult for questions and/or comments.
How does Q Home check the quality of the holiday homes?
The properties that we include in the offer are checked by means of a rental scan so that we are sure that they meet our quality requirements. If necessary, we ask the owners to make changes to the interior or exterior to suit the wishes of our tenants. In the unlikely event that things are missing, please report this to our local manager so that we can discuss this with the owner.
Your local contact person on site.
Q Home works with local partners, who all manage 10 to 20 homes in the area where they live. These partners always know the houses personally and live within a radius of 25 km around the house you rented. For example, there is always a local contact person in the area who can help you on site with information about your stay, the house and/or the surroundings.
You will receive the details of this person from us approximately two weeks before arrival. Do not hesitate to contact this person if you have specific questions about the house or your stay.
What is standard inventory in a holiday home?
Before we rent out a holiday home, we always thoroughly check the inventory. This means that a holiday home for, for example, 10 people always has an inventory that is more than sufficient for 10 people. For example, we also strive to have at least 1 cot and 1 high chair in every home.
If there are matters that are very important to you during your stay, please feel free to ask our contact person on site, who is responsible for this holiday home, whether the items you want are available. If you make a reservation request via our website, you can also send a comment in addition to your personal data, which will be sent directly to our contact person on site.
Please note: kitchen towels and beach/pool towels are not available in our homes. Bed linen and towels for the bathrooms are available on request in most holiday homes and included in the price in some homes. See the 'prices' tab for each home for an overview of whether this is included or not.
What do I do in case of a complaint about the holiday home I have rented?
If you have a complaint about the holiday home you have rented, the local manager/owner is your first point of contact. A complaint must always be reported directly to the contact person (manager/owner) on site during your stay, within 24 hours of its occurrence. This way it can be treated as quickly and efficiently as possible. The e-mail you received from us about 4 weeks before the start of your holiday contains the contact details of this person. If you believe that after this contact your complaint has not been sufficiently addressed, you can contact the Q Home service desk via info@qhome.fr. In that case, please let us know why you are not satisfied with the solution already offered and sufficiently substantiate your complaint with information and any photos. We will then review it and, if we deem it necessary, review it with the manager and/or owner.
However, there are a number of matters for which neither Q Home nor the owner/operator can be held responsible;
Noise disturbance
All holiday guests wish to have an undisturbed holiday. In France, the same rules for noise disturbance apply as at home. Please take into account the neighbours/environment and vice versa they should also take you into account.
Construction work in the vicinity of the holiday home is not always predictable by the owner or Q Home. In the south of France, construction sites sometimes lie dormant for several years and are then restarted without consultation with the neighbors of the respective builders. In general, in most tourist regions there is a construction ban in July and August. These rules do not apply in the low season. The homeowner and Q Home are not liable for any noise nuisance caused by construction work in the vicinity.
If a disturbance occurs, the manager or owner can discuss with the respective workmen/neighbors whether the noise levels can be adjusted so that they do not disturb your stay, but unfortunately we cannot guarantee this.
Garden and swimming pool
A beautiful garden must be maintained regularly, just like the swimming pool. This is periodically cleaned and checked for the correct salt/chlorine and PH content. This happens as much as possible in the early morning and on the changeover days.
Please note that excessive use of sunscreen or other lotions can make the pool water cloudy. These creams and oils are difficult to remove from the bathing water and can have a strong influence on the quality of the water. A shower before swimming or letting the cream soak in for at least 30 minutes before entering the pool is strongly recommended. We also ask the tenants to use the net to remove any dirt and leaves that may be blown into the pool by the wind so that the filtering continues to work properly.
Major maintenance of the gardens is of course done in the spring and autumn when the villa is not rented. During rental, smaller work must be done such as mowing the lawn so that the site remains tidy. You must not refuse the gardeners. Normally the gardener and pool service has their own key to the property (not to the villa). You don't have to stay at home for this. If you have any questions about this, please do not hesitate to contact your local contact.
Insects
The amount and types of insects vary greatly by year, season and region. In general, mosquitoes, wasps, or insects resembling wasps can be expected to be found in rural areas. The latter only come to drink from the pool and are not aggressive. If this bothers you, it may help to place a bucket of water further away from the house so that the insects will drink here. There are usually fewer mosquitoes on the coast.
Some homes are equipped with mosquito nets, but not all or not completely. If you attach particular importance to it, we can check with the owner for you before you make a decision. It is your responsibility to provide other mosquito repellents. In principle, they are not present in the house.
If you find a wasp nest in or near the rented property, you can speak to your local contact person so that we can see whether it can be removed. However, insects often come from far away (1.5-2km) to find water, so the actual nests are often difficult to locate.
Internet
The presence of internet is offered as an extra service and is not part of the rental agreement. You can find information about this in the characteristics of the accommodation you have booked. Please note that the operation and speed of the Internet cannot be guaranteed, even if it is indicated that it is present. Neither the owner nor Q Home can be held responsible for the non-functioning or slow functioning of the internet. The internet in France is slower in much less populated regions than in Northern Europe. This is because a large part of the network above ground goes through cables, which are much more sensitive to failure / damage. The houses and villages are also much more spread out, which increases the risk of delays or poorly functioning signals.
If you attach particular importance to fast internet, you should inform info@qhome.fr before your stay so that we can obtain specific information for you about the home of your choice.
Rebooking guarantee:
Choose our rebooking guarantee for your reservation. Book with certainty and opt for our rebooking guarantee at €95 per reservation. These are uncertain times, also for travel and we understand that this has a strong influence on planning a holiday and renting a holiday home. Insurance companies currently barely cover risks and charge considerable premiums for this. Of course we are not an insurance company and our options are therefore limited, but at Q Home we still want to think along with you and help you to exclude as many risks as possible so that you can look forward to your holiday with peace of mind.
That is why you can now opt for a rebooking guarantee that allows you to go on holiday to the same home at another time (within 13 months after the original arrival date). In consultation with our owners, you can now take out a rebooking guarantee for almost 80% of our homes when booking.
When does the rebooking guarantee apply?
This rebooking guarantee applies when, due to Covid-19, there is a prohibition up to 5 days before arrival to leave the country of origin (stated on your contract) for holiday purposes, to travel through a country necessary to reach the destination or there an entry ban applies to the country and/or department where the home is located.
The rebooking guarantee therefore does not apply in the event of negative travel advice that is not legally enforced or in the event of additional measures imposed by the government, such as a quarantine, the submission of a negative test, a curfew, insurance restrictions or other conditions that do not make it impossible. to reach the holiday home.
Additional terms:
– If your reservation is rebooked and you would choose a period with a different price, the difference in rental price will be settled. Prices and availability are set annually in consultation with the owners. It is therefore possible that the price for the same period a year later is no longer the same or that there is no availability during the same period.
– If the house you booked should disappear from our offer within 13 months (for example, if the house is sold), we will give you the opportunity to choose another Q Home house.
– Payments must be made according to the dates indicated on your rental agreement.
Amounts already paid will not be refunded pending the new start date, this also applies to the deposit.
– This rebooking guarantee can only be concluded when the rental agreement is drawn up. This can therefore not be added to your reservation afterwards.
– In case you cancel your reservation, the amount paid for this rebooking guarantee will not be refunded and our general cancellation conditions will apply.
Which homes participate in the rebooking guarantee?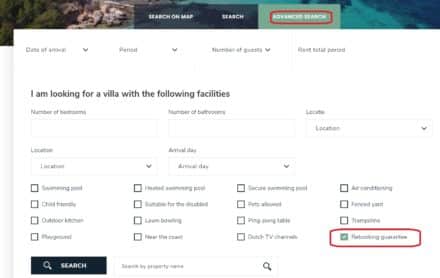 Would you like to book a home that participates in this rebooking guarantee? Via our 'search & book' page you can find an overview of the participating homes.
Via our 'advanced search' filter you can find an overview of the participating houses. Check the "Rebooking guarantee" box to get all the houses that fall under the rebooking guarantee.
Of course you can always email us (at info@qhome.fr ) with your wishes, so that we can propose a selection of tailor-made villas that fall under the rebooking guarantee.
Corona proof on holidays:



Most people are already getting used to the fact that corona has become part of our daily lives. Corona has made us even more aware of good hygiene. We have therefore adapted our cleaning protocols to this and are convinced that you can enjoy a safe and pleasant holiday with us! All our villas are private and have their own pool. Moreover, numerous trips and outdoor activities are possible or you can go out to discover the beautiful nature. You do not have to come into contact with others except your own travel group because all homes are secluded. You can also come with your own transport. So you can come and enjoy the southern French sun in peace!
Also see: Our Tips for more information about all kinds of fun trips in the area, which can largely be done on an individual basis with your travel group.
Our holiday villas have become even more popular for that reason. So don't wait too long to reserve your favorite Q Home property! Of course, corona can still affect your planned trip, which is why it is useful to view the information below for specific wishes from the south of France with regard to corona, testing and/or vaccination.
The lease agreement:
How does the booking process work?
The booking process takes place in a few short steps:
a. Select the house of your choice in the desired period.
b. Press the Reserve button.
c. Enter your personal details and press Check Booking Request.
d. If the details are correct, tick the box in agreement with the General Terms and Conditions and press Confirm Booking.
e. You will automatically receive a confirmation e-mail at your e-mail address.
f. Q Home checks all requests to see whether other requests have been received at the same time (since we receive requests through multiple channels) and then sends you a confirmation by e-mail as soon as possible if the booking request has been approved.
g. We will send you the contract with payment details by e-mail.
h. As soon as you e-mail this back to us for approval, the contract is defenite.
Who do I have a contract with, as a tenant?
As a tenant, you have a contract with Q Home B.V. agency for intermediation in seasonal rental, located at: Middelweg 104, 2241 AS in Wassenaar, legally represented in this matter by Ms Debby Trouw-Le-Febre and/or Mr Folkert Trouw. Q Home concludes the contract with the tenant in the capacity of authorized agent on behalf of the owner of a property located in France, which property the owner makes available for seasonal rental (see General Terms and Conditions). Q Home BV is registered in the Chamber of Commerce in Rotterdam.
Chamber of Commerce number: 56446063
VAT no: 8521.28.848
Payment of the rent and payment terms
When selecting your holiday home, you will immediately receive an overview of the costs associated with this reservation. After sending your booking request, you will receive the rental agreement from us with a further specification of the amounts and the payment term(s). Payment is always made in 2 installments. Term 1: 25% within one week after booking and term 2: 75% two months before arrival. For bookings made less than eight weeks before the arrival date, a payment term of 100% applies immediately after booking. One-off reservation costs apply to all Q Home bookings, these amount to 75 euros per booking.
The cleaning costs and possibly the provision of bed linen and / or towels are paid in cash to the contact person on site upon arrival.
Refund of the security deposit
The deposit is in most cases paid with the rent in the above terms. After Q Home's final inspection, the deposit will be returned to your bank account within 10 days after departure if there is no damage.
However, for a number of properties, the deposit is paid directly to the owner/manager upon arrival. In this case you will receive the deposit on the day of departure after inspection by the owner / manager immediately.
What are the terms and conditions of Q Home?
When booking your holiday home you agree to the terms and conditions of Q Home. This contains all contract conditions associated with your booking. This also contains the cancellation conditions associated with your contract. We therefore ask you to read the general terms and conditions carefully. You will hear from us on arrival about all matters that are specifically related to the house you have rented or the surrounding area.
Cancellation insurance and travel insurance:
Q Home advises all customers to take out a good cancellation and travel insurance to cover the risk of cancellation costs.
Q Home itself does not have insurance that we can offer you, but we advise you to take out good insurance in your country of origin
.
It is important to check the conditions of the insurance carefully to see whether matters such as epidemics are covered, this differs per insurance policy and per situation.
In general, the All-risk insurance policies are most suitable for this.
What happens if I unexpectedly have to cancel my holiday?
You must contact us as soon as possible so that we can see how we can terminate the contract. See also Terms and Conditions. In the event of cancellation, the tenant can reclaim rent already paid after deduction of a cancelation fee, the amount of which corresponds to the date of cancellation. The percentages withheld from refunds are as follows:
– in case of cancellation up to 8 weeks before the arrival day of the booked stay, the tenant owes 25% of the total rent, the full reservation costs and any rebooking guarantee and/or rebooking surcharge;
– in case of cancellation from 8 weeks before the arrival day of the booked stay, the tenant owes the total rent, the full reservation costs and any rebooking guarantee and/or rebooking surcharge;
It is not possible to cancel your reservation free of charge for canceling a reservation due to an epidemic (such as Covid-19). The above cancellation conditions will then apply. We therefore advise you to take out good cancellation insurance.