Choose for our rebooking guarantee
Opt for our rebooking guarantee at € 95 per reservation.
These are uncertain times, also when travelling and we understand that this has a strong influence on planning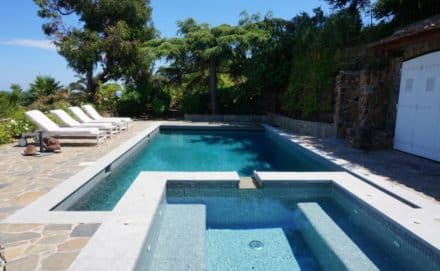 a holiday and renting a holiday home. Currently, insurance companies hardly cover risks while charging substantial amounts. Obviously we are not an insurance company and our options are therefore limited, but at Q Home we want to think along with you and help you exclude as many risks as possible so you can look forward to your holiday with your mind at ease.
That is why you can now opt for our rebooking guarantee that allows you to go on holiday to the same house at a different time (within 13 months after the original arrival date). In consultation with our owners, you can now opt for a rebooking guarantee for 80% of our homes.
When does it apply?
The rebooking guarantee applies when, due to Covid-19, up to 5 days before arrival there is a ban on leaving the country of origin for holiday purposes or when travelling through a country necessary to reach the destination is forbidden or when an entry ban applies to the country and / or department where the property is located.
The rebooking guarantee therefore does not apply in case of negative travel advice that is not legally enforced or in case of additional measures imposed by the government such as a quarantine, submission of a negative test, a curfew, insurance restrictions or other conditions that do not make it impossible to reach the holiday home.
Additional terms and conditions:
– If you would choose to modify your reservation to a period with a different price, the difference in rental price will be settled. Prices and availability are fixed annually in consultation with the owners. It is therefore possible that the price for the same period a year later, is no longer the same or that there is no availability during the same period.
– If the house originally booked should disappear from our offer within these 13 months, we will give you the opportunity to choose another house from our portfolio.
– The rent must be paid according to the payment terms in the rental agreement.
Amounts already paid will not be refunded pending the new start date, this also applies to the deposit.
– This rebooking guarantee can only be added to your booking when drawing up the rental agreement meaning it cannot be added to your reservation afterwards.
– In case you would decide to cancel your reservation, the amount paid for this rebooking guarantee will not be refunded and the general cancellation policy will be applied.
How to book a home with rebooking guarantee?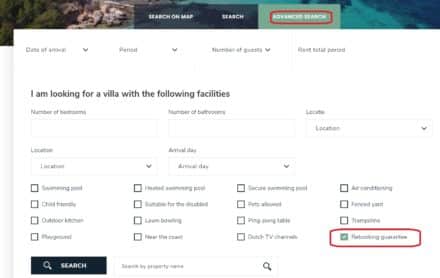 Would you like to book a home that participates in this rebooking guarantee? Via our 'search & book' page you can find an overview of the participating houses!
If you go to Advanced Search and click on the square rebooking guarantee you will get only houses in your selection that have a rebooking guarantee.
And of course you can always email us (at info@qhome.fr) with your wishes, so that we can propose a selection of tailor-made villas that are covered by the rebooking guarantee.